Cleveland Heights High School
Class Of 1968
In Memory
Robert Richman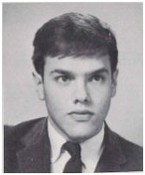 CJN:
Robert Richman, son of the late Michael and Ida Richman; devoted brother of Mary Lynn Porath of Bridgewater, N.J.; nephew of Sylvia and Jack Spector of Cleveland; and uncle to Emily Dennis of Auburn Lakes, Jascha Rosenbaum of Cleveland, and Libby Rosenbaum of Campbell, Calif., passed away in Hong Kong on June 7, 2013 at the age of 62. He was returned to his home in Sydney, Australia where he was interred at Rookwood Cemetery. After graduating from Cleveland Heights High School, Bob Richman studied Chinese at Melbourne University, where his extraordinary skills in playing contract bridge were recognized. Bobby, as he was called, became Australia's first Emerald Grand Master (of only three ever) and the all-time International and National bridge champion for his adopted country, where he held dual citizenship, and which he represented in tournaments world-wide. He was stricken while at an international tournament, and the entire Australian team then withdrew out of respect. While participating in the 1997 Maccabiah Games in Tel Aviv, Bob escaped injury when a pedestrian bridge collapsed, injuring 60 members of the Australian team. Bobby was repeatedly referred to as an Australian National Treasure. A beloved celebrity, his wry rapier wit and aggressive bidding made him a welcomed partner and a feared competitor. His self-effacing modesty, secret generosity, and mentoring of new talents were among the quiet traits that made him so endeared in Australia. Although known as Bobby by his fans, he called himself "Z" for Zaide to granddaughter Millie, and as his adored life partner Deborah said, in the words of W.H. Auden, "He was my North, my South, my East and West. My working week and my Sunday rest." Contributions in his name may be made to CAMO (The Central American Medical Outreach) at 322 Westwood Ave., Orrville, OH 44667, www.camo.org, (330) 683-5956.
.............................................................................................................................................................................................
FROM THE AUSTRALIAN BRIDGE FOUNDATION:
Bob Richman, undoubtedly one of Australia's finest bridge players, has passed away on June 7 in Hong Kong. Bobby was in Hong Kong preparing for the PABF Senior Cup teams as a member of the Australia Klinger team. To all of his family, friends and partners we offer our sincerest condolences.
A Facebook tribute page has been set up to remember him. Go to
www.facebook.com/groups/430061497101250/
Cathy Chua has written some recollections of Bobby. Go to
swatchless.wordpress.com/2013/06/08/bobby-richman-died-last-yesterday/
Bobby's funeral was held on Monday 17th June at the Chevra Kadisha Woollahra followed by a celebration of Bobby's life at the Grand Slam Bridge Club.
Ron Klinger has kindly written an obituary for Bobby. Go to www.abf.com.au/member-services/obituaries/bobby-richman